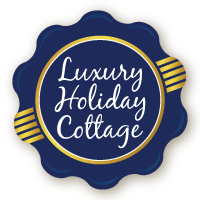 The Rock seaside holiday cottage in Camber Sands is located just a few minutes walk to the wonderful sandy beach. With so much to do on your doorstep in the historic 1066 country, this holiday cottage is the perfect location for a family holiday or short break throughout the year. With many castles, historic sites, water sports, golf and of course the huge sandy beach this holiday cottage will keep all ages entertained.
The Rock has been beautifully furnished with comfort in mind and has a sunny landscaped garden which is perfect for relaxing in at the end of the day. The medieval town of Rye with its boutique shops and restaurants is only a few miles away and can be explored from the comfortable base of this baby friendly holiday cottage in Camber Sands.
sleeps 8

6 + 2 on quality
double air bed

baby briendly

dog friendly

close to
the beach

close to
historical town

quiet area
contemporary
furnishing

landscaped
garden

secure garage
+ private parking

wifi

flat screen tv
living room & kitchen

ipod dock

dvd player

selection of dvd's games & books

The Rock is ideally located in White Sand, an award winning development just a few minutes' walk from the famous and breath-taking Camber Sands beach.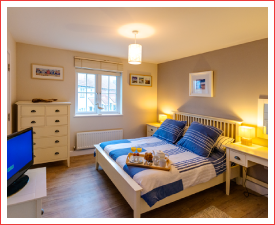 Whatever the weather, the Rock is comfortable and relaxing and invites you to relax and unwind. The Rock is a modern three bedroom holiday home, offering spacious living areas.
The ground floor features a generous living room and a large open plan kitchen/dining area leading to the landscaped garden.
A perfect combination for entertaining. The first floor comprises a large master bedroom with en-suite bathroom, complemented by two further good sized bedrooms and a family bathroom.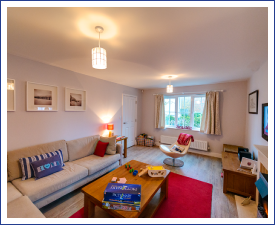 The Rock is a substantial 3 bedroom holiday home that has been imaginatively furnished in an appealing, contemporary, seaside style. The open plan kitchen, dining room leads to the landscaped garden with bespoke seating area, great for groups of friends or families alike. Meanwhile, the slightly more formal bright and sunny sitting room has an L shaped sofa, perfect for relaxing on after a day out in historic 1066 Country.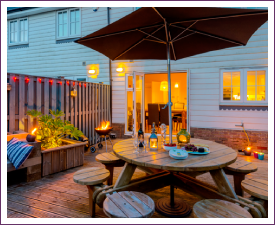 The Rock is equipped with guest's enjoyment, relaxation and comfort in mind. One particular highlight is the sunny, south-facing, decked patio garden complete with barbecue, dining table and chairs- a perfect spot for relaxing in the sun or with a beer after a day on the beach.
Watersports and golfing devotees will appreciate the secure garage for storing wet suits, boards, golf clubs etc..




Whether you're looking to build sand castles with your children or help them explore fascinating rock pools, Camber Sands offers the country's most spectacular sandy beach and paddling-friendly waters right on the doorstep of The Rock.
The Rock is equipped with just about everything you could need for a relaxing holiday with young children. As well as the a highchair, stair gates and travel cot to help lighten the load when taking the little ones on holiday with you. You will also find a Baby Bjorn bouncer, baby monitor, a steriliser, a potty, bed guard, socket covers, night lights, changing mat, non slip bath mat, toddler step, Maclaren stroller, plastic cutlery, crockery and sippy cups.

Dogs love a big sandy beach – space to run around, sand dunes to explore, water to splash in, interesting smells to discover and plenty of other dogs to play with. So when you bring your four-legged friend to White Sand, it's good to know that the incredible dog friendly Camber Sands beach is right on your doorstep.
They will be in hound heaven! Our dog friendly Camber Sands holiday cottage here at White Sand is the perfect place to bring your faithful furry companion. Camber's huge sandy beach on your doorstep, lots of great places to go for walks and even dog friendly pubs so that you can both enjoy a relaxing drink after a day of sniffing about on the dunes!

The Rock is perfectly located on the East Sussex/Kent border allowing you to explore two of England's loveliest and most historic counties, East Sussex's 1066 Country and Kent's Garden of England. Being only one and a half hours from London you can also make the most of what the capital has to offer, take in a show in the West End, shop in Oxford Street or visit the many iconic sites.
The Rock is just a short walk from Camber Sands. This wide, dune enclosed sandy beach is over 2 miles long and is the perfect spot in which to breathe in the exhilarating sea air. The village and dunes were once the haunt of smugglers, whose ill-gotten gains accounted for the prosperity of neighbouring Rye.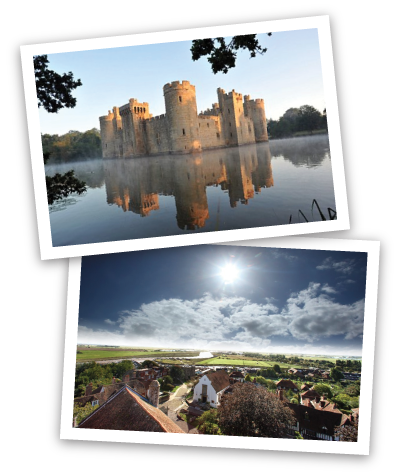 The property offers easy access to the UK's finest beach, ideal for flying kites, making sand castles and spending relaxing family time. This wide open space is popular with windsurfers, bathers and horse riders and there is a network of footpaths and cycle routes criss-crossing the nearby wildlife reservation. When you can't be outside, there's a flat screen tv, dvd player and games console to keep you and the family entertained.
Nearby Rye has a rich and colourful history. Its cobbled streets, enchanting church and beautifully preserved buildings are proof of the towns' importance as a medieval Cinque Port. Rye played an important part in the defence of the realm. Local fortifications like Camber Castle are now popular tourist attractions. Perched on a hill overlooking the marshes, Rye is the perfect place to explore, shop and eat out. Its charming ancient streets are filled with a great selection of independent retailers, restaurants, pubs and a weekly market.
With the blend of tradition and culture in Rye and the beauty and tranquillity of Camber Sands, The Rock is ideally positioned to enjoy the very best this unique corner of England has to offer.

Read what our guests thought of their holiday at The Rock

"good memories of our English week" Feb 2013
We enjoyed staying at The Rock. The place is very quiet, the house is well equipped, and it really was a relaxing week. We have had the chance that the beginning of the week is sunny. After our journey, we have had a long walk on the beach. We have been happy to go to Canterbury and London (that we both already knew) on Monday and Tuesday (14° on that day !). We also visited Eastbourne and Hastings mixing walks along the sea and shopping (it was the Spring sales week 😉 . And of course, we also visited Rye. Just before crossing the channel back to France, we also stopped in Folkestone.
We keep good memories of our English week, and children (between 11 and 15) have been happy to discover England a little bit
"the property was brilliant" Feb 2013
We had a great time thank you, the property was brilliant as everything was there and the welcome pack was much appreciated. We would definitely use it again. We went out every day and got to visit lots of places.
We thought the service you provided was great from start to finish. We usually go to Suffolk and the company we use is put to shame compared to you! So thanks again.
"A lovely weekend" Jan 2012
We had such a lovely time thank you!! Sledging on the dunes/snow and a brisk walk to the pub went down a treat!! The house felt like a home and we all felt so comfortable there. It really was a lovely weekend and I'm sure you'll be hearing from me again in the summer,
Best regards and thank you,